Archive for April, 2017
Recycling Certification Goes to Quebec
Posted on April 26, 2017
Earlier this year I had the opportunity to travel to Quebec, Canada as an invited speaker at 3R MCDQ's Annual Conference.  3R MCDQ represents Quebec's C&D industry much as CDRA does in the US.  As industry associations go, it should come as no surprise their issues are quite similar to ours.  They are focused on: representing and promoting the industry, transfer of knowledge and information, developing expertise, and promoting networking and the exchange of ideas.
3R MCDQ, in concert with Recyc Quebec (a pseudo-government council reporting to Quebec's Minister of the Environment) have turned their attention to C&D facilities over concerns the facilities may be misreporting their recycling rates.  They also desire to better understand the performance and contributions of the industry through accurate data.  Sound familiar?
Over the past year or so, 3R MCDQ and Recyc Quebec have been evaluating the potential implementation of Third-Party Certification for C&D facilities as a means of addressing the above and other related concerns.  RCI was interviewed as part of this evaluation and the firm that coordinated the study on certifying organizations presented their findings at the conference, with RCI receiving consideration.
My presentation provided an overview of the CORR Protocol and how RCI conducts Facility Certifications.  It was a great opportunity to speak with their members as well as Recyc Quebec who likely will be responsible for recommending the Certifying Organization when they are ready to move forward.
Despite a winter storm that wreaked havoc on Montreal's roadways for several days, our neighbors to the north greeted me with warm hospitality and I enjoyed meeting with them as well as the opportunity to share and learn.
Best regards,
Stephen M Bantillo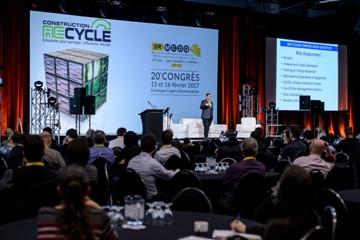 Photo credit:  Melissa Gariepy  photographiem.com
Previously printed in CDRA Member e-Newsletter
Posted in
Latest News
,
Uncategorized
|